May 6, 2017
Have you ever sat there, eating KFC while you fantasize about Colonel Sanders, the founder and creator of such beautiful chicken?
Well if you haven't, you are missing out. Kentucky Fried Chicken has decided to solve this problem by giving a new book to the world as a free gift for Mother's Day.
The novella is called Tender Wings of Desire, and it even has a picture of a ripped Colonel Sanders and Kentucky Fried Chicken on the cover.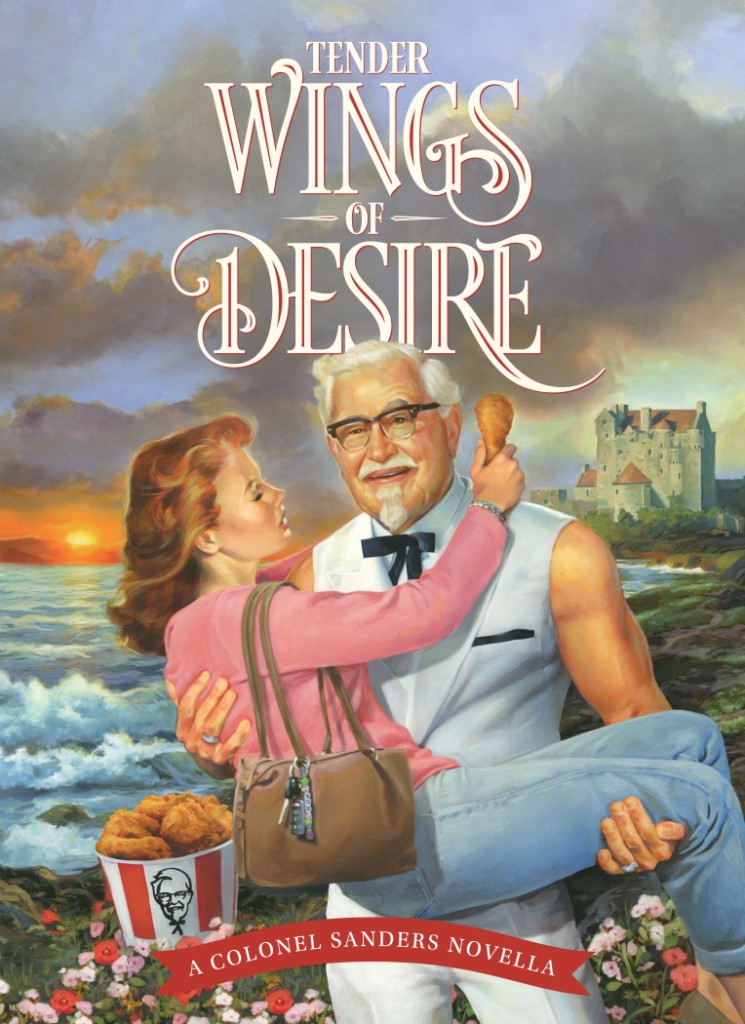 Yes, I am dead serious. This really exists.
I downloaded the book for free on Amazon this morning and thought, "This sounds funny. I'll just read the first few pages." But no. I read the whole thing in one sitting.
The dedication certainly helped: "For mothers everywhere, I dedicate this to you—a brief escape from motherhood into the arms of your fantasy Colonel. Whoever he may be."
Obviously, your fantasy Colonel should be a fried chicken magnate.
The story starts with Madeline, a fine Victorian lady who is engaged, against her will, to a Duke who she thinks "looks like a vanilla biscuit." (Yes—the cover of the book shows looks like a steamy modern romance, and shows a normal woman in the arms of a modern Colonel. But to me, that's part of the thrill—why not have modern people on the cover of a historical romance? You can use the best of all romance novels. We can all fantasize about the Colonel however we want.)
Madeline feels no passion for her betrothed duke, so the night before her wedding, she runs away to a romantic coastal town with cliffs—beautiful, frightening cliffs—to become a barmaid. And of course there she meets—and is swept off her feet—by the one and only Colonel Sanders. Add a few barriers in the way of their romance, and you have a thrilling romance.
The novella is a touch steamy (such passion!), though only kisses are shown on the page and everything else is left implied.
And now, for my favorite quote:
"Madeline's heart was pounding so heavily in her chest that she did not think she would be able to breathe; perhaps she would die like this. It would be terribly romantic, would it not? To be killed by such a longing."
The story does not take itself seriously (you were warned by the cover and the title!), and yet it still manages to tell a very solid romance.
And of course, the Amazon reviewers don't take the story completely seriously either (and are actually less appropriate than the book itself). Here are two of my favorites: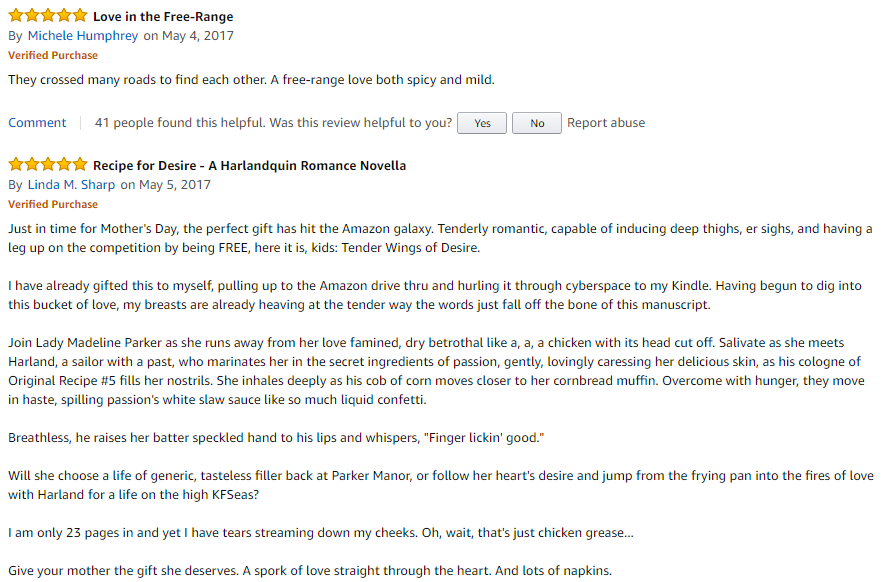 Now what are you waiting for? Go download your free book Or better yet, give it to your mom for Mother's Day.