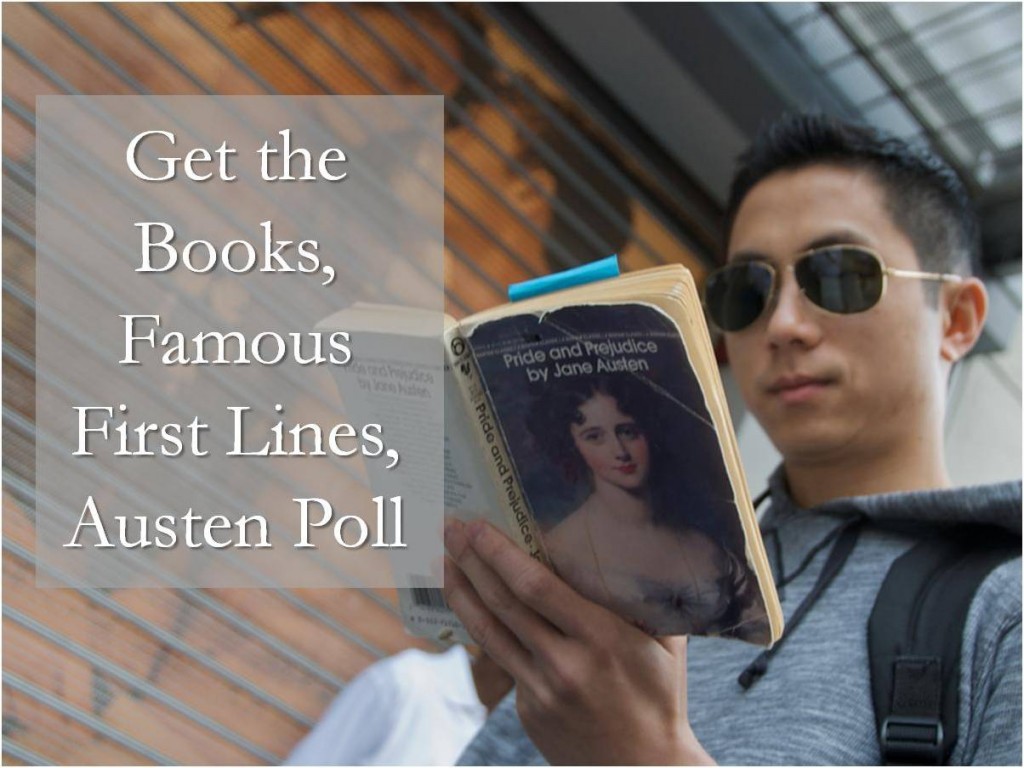 First, a Jane Austen poll–if you've read at least one or two of her novels, which one is your favorite? Next, there's a short description of each of Jane Austen's novels, with links to where you can read for free or buy them. And finally, the first lines from each of her novels–how many do you recognize?
Read the Books
All of the books are available for free on Project Gutenberg and in other places online. You should be able to find them at any library or any online retailer (here's Jane Austen's author page on Amazon).
Pride and Prejudice — this is the story of five sisters and their mother's quest to marry them off. If you haven't read any Austen, I recommend you start here.
Northanger Abbey — this book is a bit of a departure for Austen, as it uses the tropes of a Gothic novel. It follows Catherine Morland, a young female obsessed with cheap novels, and a mystery that she must unravel.
Emma — unlike most of Austen's heroines, Emma is handsome, clever, and rich, which of course means that she is going to make a lot of mistakes and have a lot to learn.
Sense and Sensibility — the first novel published by Jane Austen, it follows the two Dashwood sisters, Elinor and Marianne. On the death of their father, they lose their home, and without a fortune must try to survive life and perhaps find love.
Persuasion — Austen's final completed novel, this more satirical book follows Anne Elliot, who was engaged at 19, broke off the engagement, and has managed to reach the old age of 27 unmarried.
Mansfield Park — this novel follows Fanny Price, a poor girl raised by her rich aunt and uncle. It's one of Austen's more controversial novels, and does more moralizing.
Lady Susan — this is a short epistolary novel (written in letter form) published long after Jane Austen's death.
First Lines of Jane Austen Novels
Pride and Prejudice: 
It is a truth universally acknowledged, that a single man in possession of a good fortune, must be in want of a wife.
Northanger Abbey: 
No one who had ever seen Catherine Morland in her infancy would have supposed her born to be an heroine.
Emma:
Emma Woodhouse, handsome, clever, and rich, with a comfortable home and happy disposition, seemed to unite some of the best blessings of existence; and had lived nearly twenty-one years in the world with very little to distress or vex her.
Sense and Sensibility: 
The family of Dashwood had long been settled in Sussex.
Persuasion: 
Sir Walter Elliot, of Kellynch Hall, in Somersetshire, was a man who, for his own amusement, never took up any book but the Baronetage; there he found occupation for an idle hour, and consolation in a distressed one; there his faculties were roused into admiration and respect, by contemplating the limited remnant of the earliest patents; there any unwelcome sensations, arising from domestic affairs changed naturally into pity and contempt as he turned over the almost endless creations of the last century; and there, if every other leaf were powerless, he could read his own history with an interest which never failed.
Mansfield Park: 
About thirty years ago Miss Maria Ward, of Huntingdon, with only seven thousand pounds, had the good luck to captivate Sir Thomas Bertram, of Mansfield Park, in the county of Northampton, and to be thereby raised to the rank of a baronet's lady, with all the comforts and consequences of an handsome house and large income.
Lady Susan:
MY DEAR BROTHER,—I can no longer refuse myself the pleasure of profiting by your kind invitation when we last parted of spending some weeks with you at Churchhill, and, therefore, if quite convenient to you and Mrs. Vernon to receive me at present, I shall hope within a few days to be introduced to a sister whom I have so long desired to be acquainted with.
Visit my other Jane Austen pages:
Header Image
Image Credit: Steve Rhodes, Creative Commons license