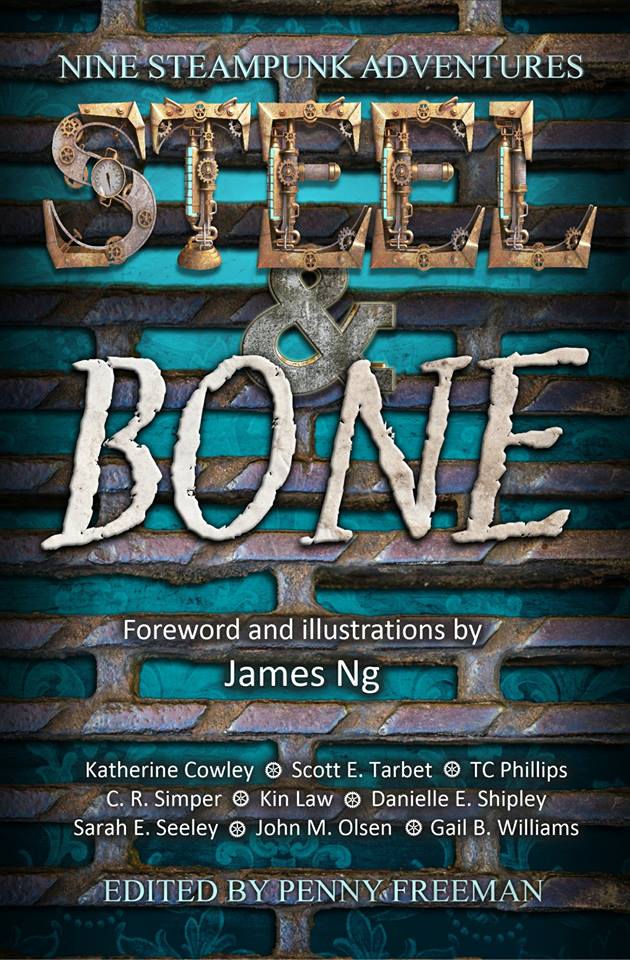 The book Steel and Bone is an anthology featuring nine steampunk short stories. The Kindle version is now available for pre-order on Amazon and the print book will be available soon.
Release Date: June 27th, 2015
The stories: Shovel the coal and stoke the boilers as nine Steampunk authors explore islands of mystery and adventure across the seven seas.
My Story: The Clockwork Seer
"The Clockwork Seer" is the first story in Steel and Bone, and features a young woman with a typewriter in her hip. More than anything, Medina wants to be normal, but her clairvoyance and other abilities prevent that. A mysterious musician visits the island where she lives, mechanical monsters attack, and the excitement begins.
Why I like anthologies: Anthologies are like an all-you-can-eat dessert buffet. You can try small samples from a variety of authors. An anthology is a great place to sample a genre like steampunk whether you're a hardcore steampunk reader or have never read steampunk before.
If you've liked my other short stories, buy the book on Amazon or read reviews on Goodreads.
More about the stories: 
The Clockwork Seer by Katherine Cowley: On an island of oddities, a young clairvoyant struggles for normalcy, but deadly automatons have other plans.
Sindisiwe by Scott E. Tarbet: A slave girl in Zanzibar escapes a beating when a stranger in the marketplace proves her past is more than just a fairy tale.
Stand and Deliver by TC Phillips: Neither shackles, slave labor, nor the island's deadliest inhabitants will prevent these brothers from meting out justice to their father's murderers.
Island Walker by C. R. Simper: Kit digs her treasures out of trash heaps, but the theft of her invention leads to discoveries money can't buy.
A Mind Prone to Wander by Danielle E. Shipley: Beyond a locked door lies Rowan Charles' death or his sanity, and the survival or extinction of his people.
Curio Cay by Sarah E. Seeley: The future of humanity rests in the hands of three time-traveling scientists battling biomechanical creatures in the Jurassic past.
The Mysterious Island of Chester Morrison by Kin Law: Dodging her chaperone, a debutante stumbles into adventure and romance at the World's Fair.
Revolutionary by John M. Olsen: A dirigible captain goes down with his ship, and wakes to find himself a captive of a sky-dwelling civilization.
The Steel Inside by Gail B. Williams: Darkness lurks in Sarah's forgotten past, kept hidden by those who claim to be her devoted husband and loyal servants.
Foreword and illustrations by James Ng.